Art and Entertainment - Movie Theater under New Ownership - Major Upgrades
November 20, 2012
Contact: Chantal Manno, Allied-THA
CManno@alliedtha.com
For More information about B&B Theatres, visit bbtheatres.com or bbtheatres.com/facebook
B&B Theatres takes over Naples, FL Towne Centre 6, major upgrades to come!
B&B Theatres is pleased to announce they have taken possession of the Towne Centre 6, in Naples, Florida.
The Auditoriums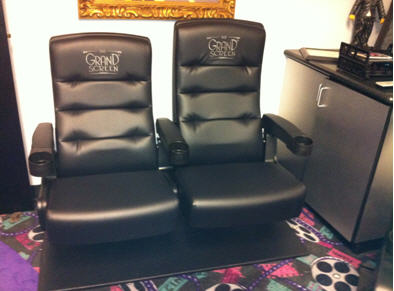 This 6-screen theatre will be completely remodeled and will feature plush VIP leather-style seats, with ultra wide, 60-inch row spacing, providing extra leg-room. The theatres have already been upgraded with digital-projection including XBRITEŽ 3D in two auditoriums. All auditoriums will have upgraded sound, screens, and sound fold, giving the cinema a completely different look and feel, creating a VIP experience for our Naples customers.
The Lobby
The lobby will have a completely remodeled interior and will feature a throwback Hollywood theme. The entire complex will receive new carpet and, upon completion, will offer a variety of VIP menu items including wine and beer. The HVAC will be completely replaced, and there will be major repairs to the roof. B&B expects the newly remodeled theatre to be completed in the 1st quarter of 2013.
Retro Nights and Classic Nights
B&B Theatres will begin offering Retro Nights and Classic Nights. These exciting evenings will feature famous movies of the past. Tickets will only be $5 and there will be a variety of fantastic films played monthly. The first Retro Night will be Thursday December 6th at 7pm and will feature White Christmas. This wonderful film will be a great way to kick off the Holiday Season. 2013 Retro Nights and Classic Nights will be announced soon!
Other Upgrades
B&B Theatres has added significant upgrades to the theatre. There is now a website for Showtimes, giving patrons a quick and simple alternative to the showtime search. These are located at bbtheatres.com. B&B now accepts all major credit cards. Gift Cards are also available and can be purchased in any amount. B&B Theatres offers a weekly newsletter through our email club. Members may sign up at the theatre or on the website: https://bbtheatres.com/newsletter.asp. Members receive a coupon for a FREE Large Popcorn just for signing up! Other benefits of the email club include: weekly coupons, weekly Showtimes, and free goodies on birthdays and anniversaries. B&B also has a strong presence on Facebook. By simply "Liking" the B&B Theatres Facebook page, patrons will have access to additional weekly coupons (different than the email club coupons) and have the ability to be "In the know" for special events, exciting Hollywood news, and giveaways!
Current Operations and Continued Growth
B&B Theatres is the 21st largest theatre chain in America and operates 223 screens in Missouri, Kansas, Oklahoma, Texas and Florida. Other B&B locations in the area include Sebring, FL and Tavernier/Key Largo, FL. B&B currently has a 12-screen theatre under construction in Wylie, Tx (Dallas/Ft. Worth area) and an 8-screen under construction in Grain Valley, MO (Kansas City area). Both projects will feature the B&B Grand ScreenŽ and other state of the art features. B&B Theatres corporate office is in Liberty, MO (Kansas City area) and has an additional office in Los Angeles, California.
Company History
B&B Theatres has been family owned and operated since 1924 when Elmer Bills Sr. opened a movie house in Salisbury, Missouri. The future Mrs. Bills played the piano for silent movies. During the company's 88 years, and four generations of family involvement, it has seen the coming of sound, color, Technicolor, stadium seating, multiplexes, and now digital cinema.
New Seats coming 2013!
Chantal S. Manno | Allied - THA | 6400 N. Andrews Ave| Suite 470| Ft. Lauderdale| Florida |33309 l 954.200.8012 |Fax 1-877-471-8127
BE ALLIED WITH THE ENVIRONMENT.Please consider the environment before printing this e-mail. .